Legal education in Manitoba started in 1877, when the Law Society of Manitoba introduced an articling system and examinations protocols aimed at encouraging local Manitoba residents to pursue legal careers. Prior to that date, most lawyers in Manitoba had trained at Osgoode Hall Law School in Toronto, or in Europe. In 1914, Hugh Amos Robson, then a judge on the Court of King's Bench and Esten Kenneth Williams, a young lawyer at the time, worked together to create the Manitoba Law School, with the intention of modelling it after Osgoode Hall, from which Williams had recently graduated. Sponsored by the Law Society of Manitoba and the University of Manitoba, the Manitoba Law School was formally created in the summer of 1914.
The Manitoba Law School moved into Robson Hall, its permanent home on the University of Manitoba Fort Garry Campus in September of 1969, and celebrated its 50th Anniversary on September 18th, 2019. A Time Capsule, which had been hidden in the exterior wall behind the date stone, was opened, its contents examined and recorded, and re-sealed with tokens from the present for the future. Please see the contents of the Time Capsule here.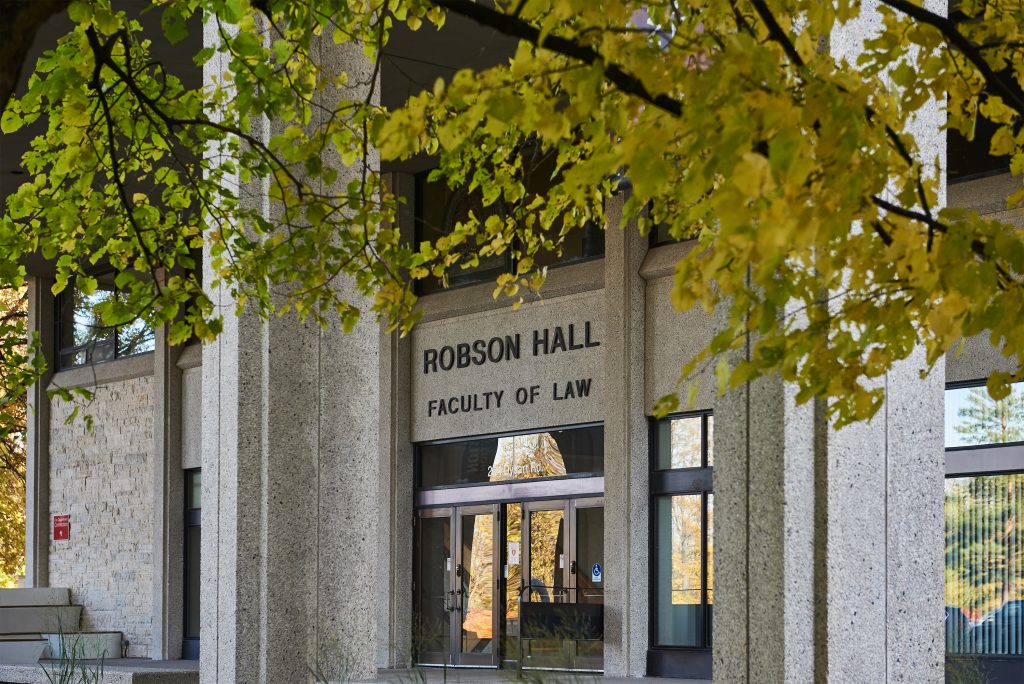 Click on the headings below to read about the rich, deep-rooted history of law in Manitoba. Please read more about The Great Transition in Legal Education in a special edition of the Manitoba Law Journal (Volume 39, Issue 1).
Learn more about Manitoba's legal history from Robson Hall's Displays, which contain pieces from the Archive of Western Canadian Legal History.
Special Thanks:
Cam Harvey (Manitoba & Other Legal Trivia)
Dale & Lee Gibson (Substantial Justice)
Matthew Renaud (Robson Hall - 100 Years)
Manitoba Historical Society