It is important to us to keep in touch with Alumni; we want you to be informed of new developments at the Faculty of Law, and we are always interested to know what you are doing close to home and around the world.
Keep In Touch
Update your contact info with the U of M Alumni Relations department to ensure you receive e-newsletters about the Faculty of Law and the University. We obtain your contact info from this central department when sending invitations to law alumni events. Please send any news stories or photos to our Communications Officer either by email or by mail to Robson Hall, 224 Dysart Road, Winnipeg, Manitoba R3T 2N2.
Volunteer your time and share your expertise with our students.
Time Capsule Contents 1969 - 2019
On September 18th, 2019, almost 50 years to the day after Robson Hall, the Faculty of Law building on the University of Manitoba's Fort Garry Campus was officially opened, nearly 150 alumni, faculty members, students and staff gathered to mark the occasion.
The Manitoba Law School's physical move from its traditional home in the downtown law courts building on September 15th, 1969 also marked a major step in the "Great Transition" in legal education in Manitoba. By locating the law school on campus amongst other Faculty buildings, it was the hope of law school administrators at the time, that new inter-faculty collaborations would be fostered, leading to an enriching academic environment for law students and faculty members as well as the rest of the academic community. Eye-witness accounts of the early days at Robson Hall are recorded in the Manitoba Law Journal's special edition volume 39(1), titled The Great Transition in Legal Education.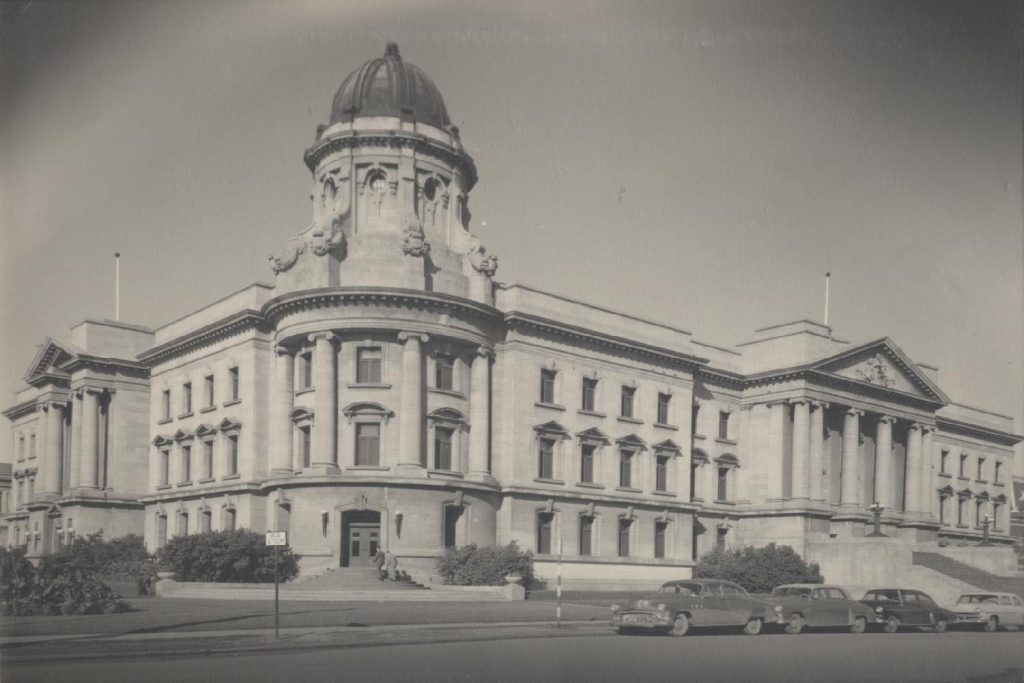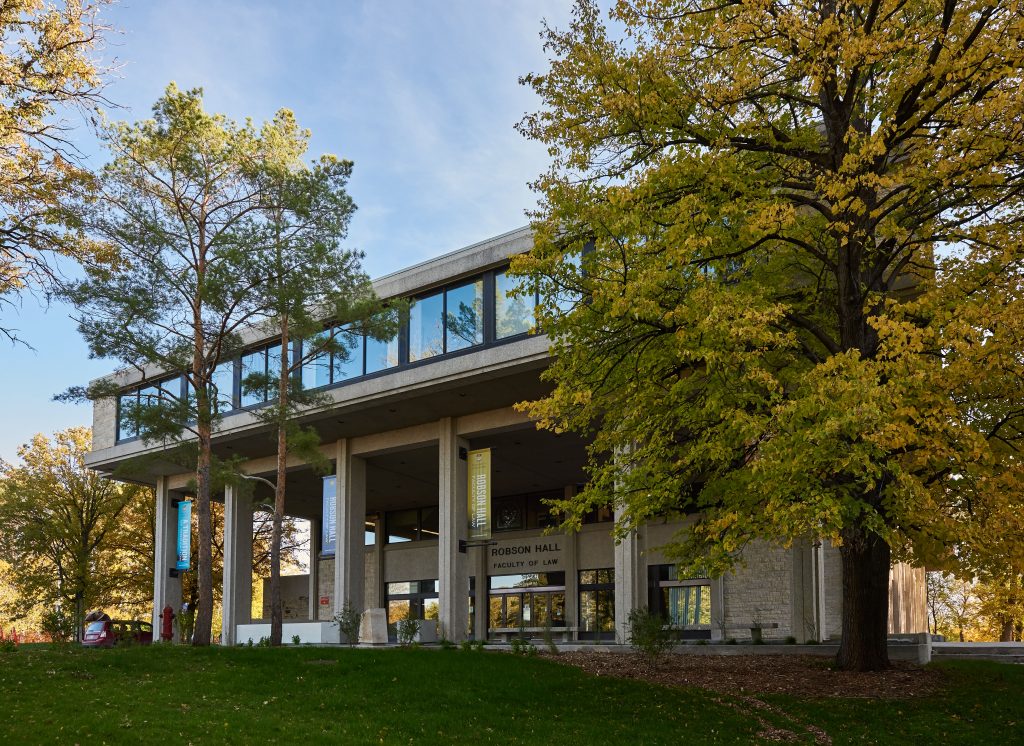 A major part of the building's 50th Anniversary celebrations was the opening of a Time Capsule that had been hidden behind Robson Hall's date stone on the day of the opening ceremony. With great curiosity, alumni, faculty and students had the opportunity to examine the contents upon Dean Jonathan Black-Branch opening the oblong copper box.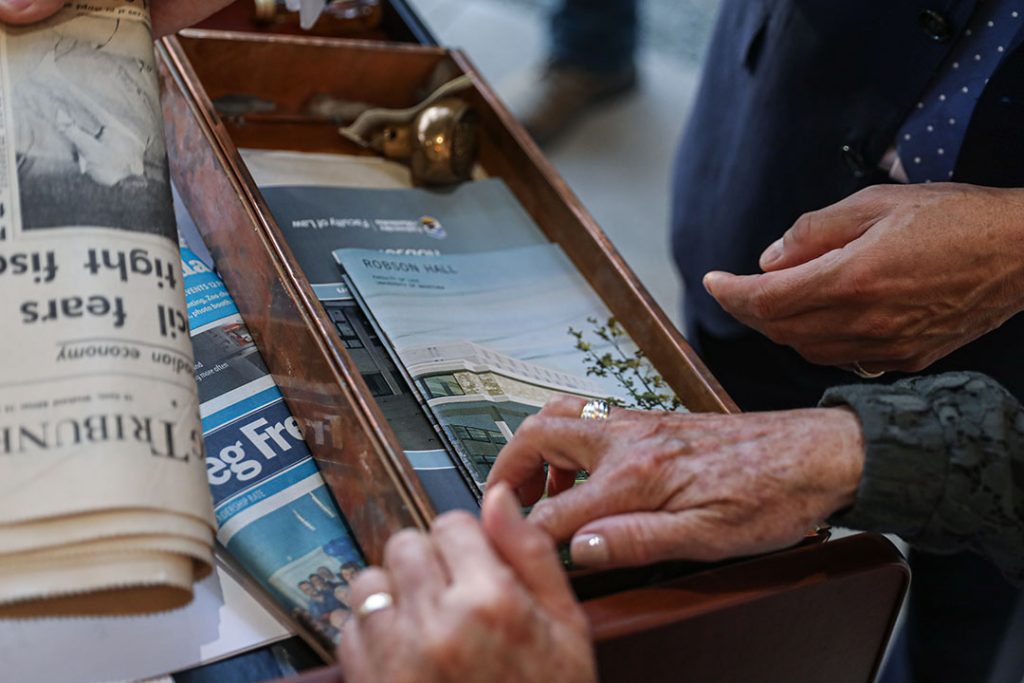 Inside was a copy of the long-defunct Winnipeg Tribune from September 15, 1969, a brass doorknob bearing a bison head, taken from the old law courts building, photos of the student body, the academic, administrative and library staff, a document proposing the building's needs and plans from 1966, an academic calendar of what courses were being taught at the law faculty for the 1969-1970 school year, a booklet commemorating the opening of Robson Hall, and predictions from staff  members of what they thought the world would be like when the time capsule was finally opened.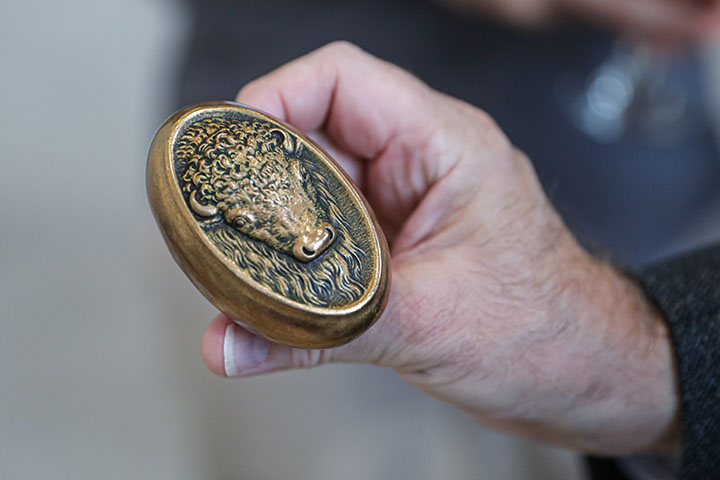 After guests had a chance to examine and enjoy the contents, Dean Black-Branch replaced all original items, and added photos of current day faculty, staff and students, plus letters to the future from the current community. By way of offering a toast to the law school's future success, he added a small bottle of Manitoba-made Crown Royal.
Please take a virtual tour of the original time capsule contents below. A photo gallery of the 2019 Homecoming event is here. Photos by Mike Latschislaw.
List of Time Capsule Contents.
Order of Proceedings, Opening Ceremony, 1969.
Predictions of faculty members and staff.
Preliminary programme for proposed law faculty building 1966.
Law Faculty calendar 1969-1970.
The Winnipeg Tribune Sept. 15, 1969.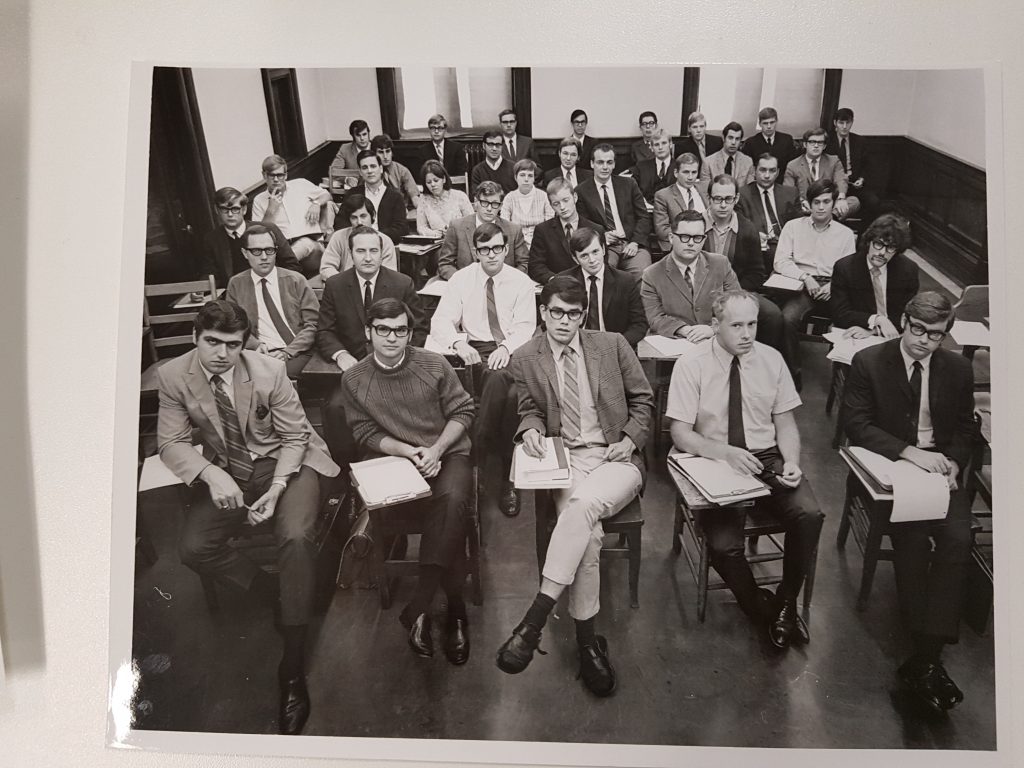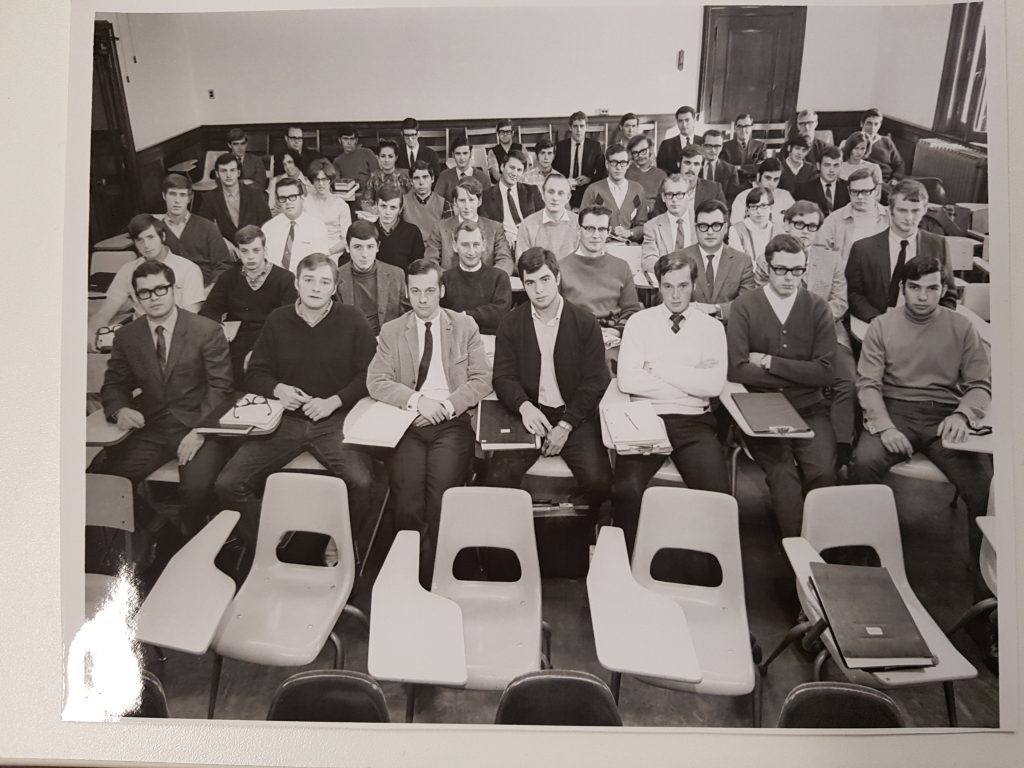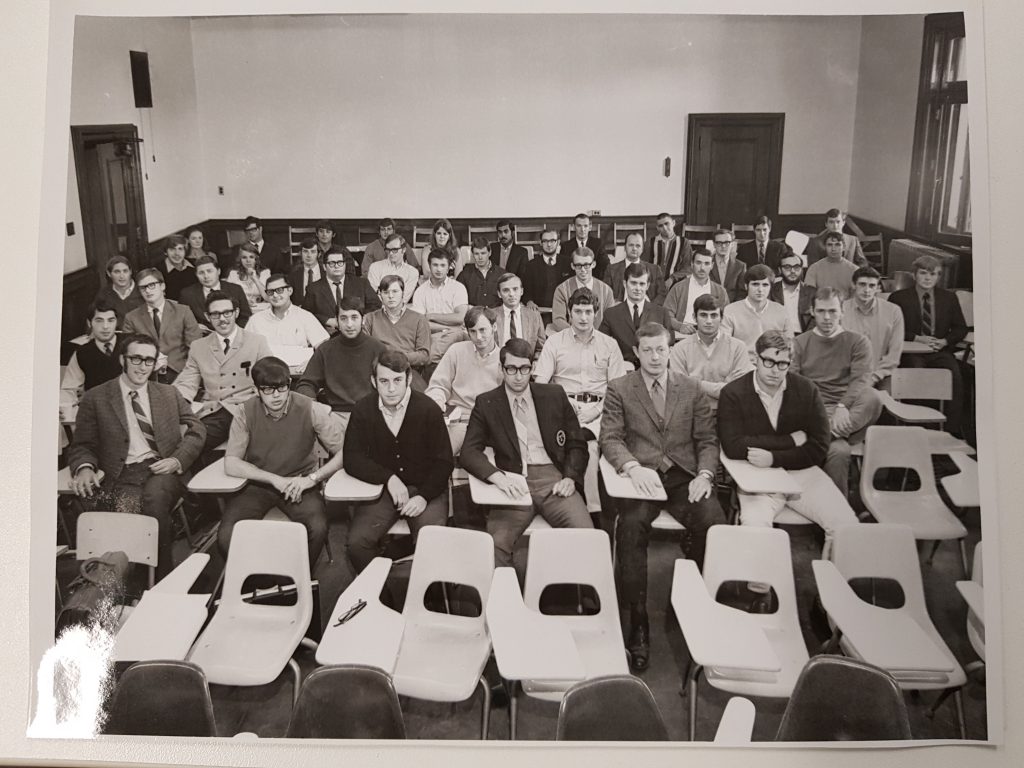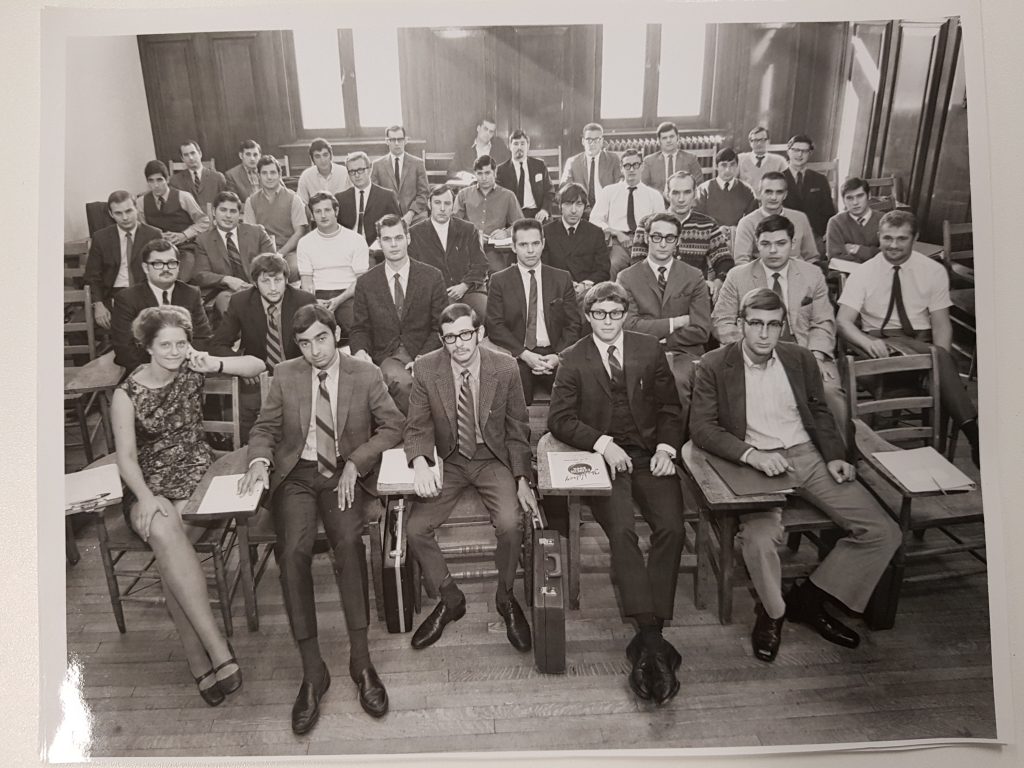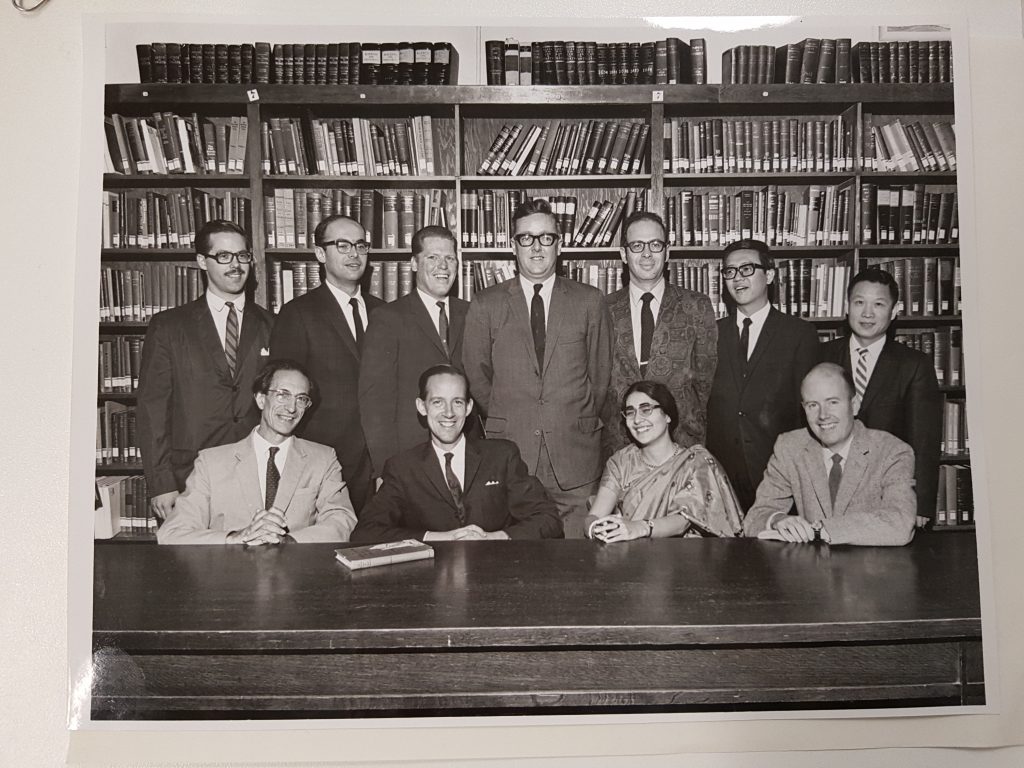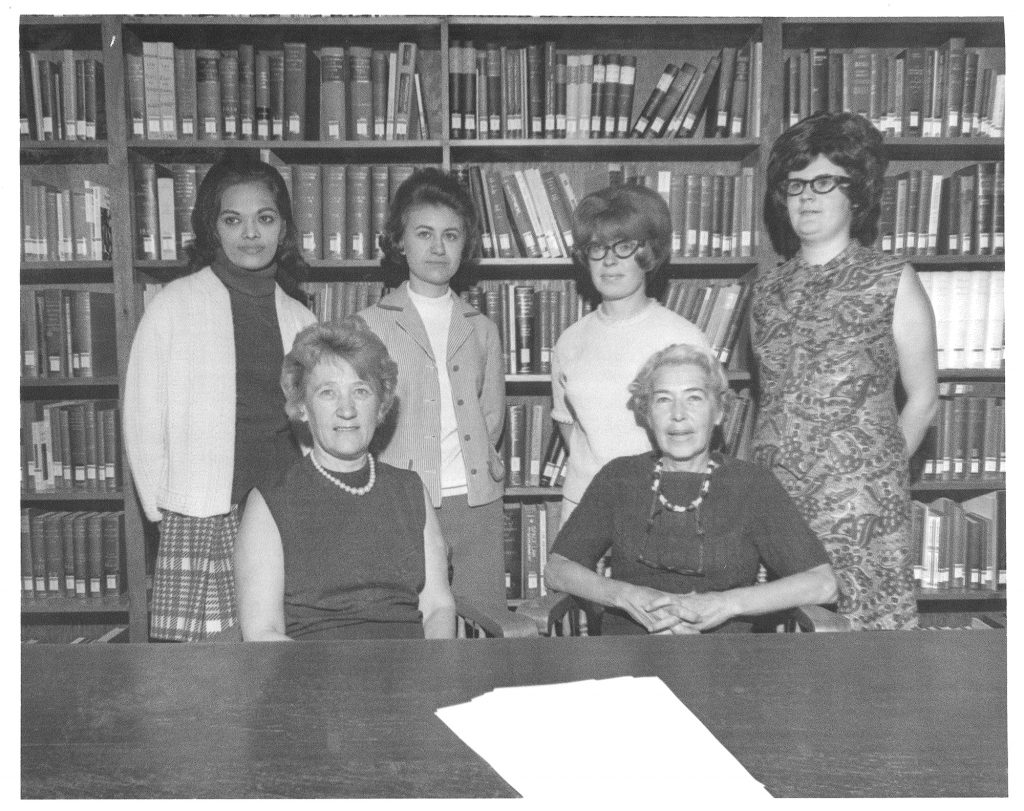 Apply for J.D. Designation
In May 2011, Robson Hall Faculty of Law announced that it would change the name of our law degree from Bachelor of Laws (LL.B.) to Juris Doctor (J.D.) after approval of the University of Manitoba Senate. All past recipients of the LL.B. degree designation now have the opportunity to choose to switch their LL.B. to a J.D. degree designation.
Apply for Designation Change
As of January 6, 2012, J.D. parchments for alumni, who request them will be issued following submission of an application.
The application form, for those wishing to make the designation change, can be printed, filled out and returned to the university's Registrar's Office with payment of $70 (subject to annual review). You will be issued a new parchment with the Juris Doctor (J.D.) designation.
Your original LL.B. parchment must be returned before a new J.D. parchment can be issued. If your original parchment has been lost/stolen/destroyed/damaged please also complete the Request for Replacement Parchment form. * Please note: this form along with the application should be submitted at the same time. There is only the one-time fee of $70.
Majority Support
The change is the result of significant consultations with Faculty, Students, Alumni and our broader community, and is in line with trends across Canada. The first student vote, in 2009, revealed a strong desire to change the name of our degree. A second student vote, held in 2010, revealed nearly unanimous support. Alumni from various decades were surveyed, and responded positively, with approximately three quarters in favour of the name change.
Why the Change?
The J.D. designation is felt by many to better represent the fact that law degrees in Canada are almost always second degrees. As well, for Canadian law graduates, there is a competitive advantage to the J.D. title, seen more as a professional degree, over the LL.B. title, more likely to be perceived as an undergraduate degree.
Some of the greatest minds in Canadian legal history have passed through the doors of the Manitoba Law School, known today as Robson Hall, Faculty of Law at the University of Manitoba. Many quietly went about the business of defending human rights, fighting for equality and freedom from oppression. The legal community holds their memories dear and celebrates their contributions to helping others. We wish to pay tribute to Manitoba Law School and Faculty of Law, University of Manitoba Alumni who have gone before us, leaving incredible legacies for us to remember and strive to do them proud.
Please let us know by email of any errors, omissions or updates to these lists.
*indicates a former professor of the Faculty of Law
2020

George W. Hately
LLB/54
Jan. 9
Ronald D. Bell
BA/51, LLB/55
Jan. 13
William D. "Bill" Hamilton
LLB/72
Jan. 13
Marlo J. (Durston) Jurkowski
LLB/04
Jan. 17
Raymond P. Oakes
BA/80, LLB/83
Jan. 24
Garnet O. de Lucia
LLB/49
Feb. 12
E. Arthur "Art" Braid
LLB/60
Feb. 27
Robin M. Kersey
LLB/79
Feb. 27
Peter W. Hogg
LLB/86
Mar. 16
Edward J. Sapiano
LLB/91
Mar. 21
Dennis H. Ringstrom
BA/58, LLB/66
Mar. 30
2019

Michael E. Martin
LLB/51
Jan. 13
Duncan E. Geisler
LLB/78
Jan. 18
R. Ken Halprin
LLB/50
Feb. 11
Roger J. Hansell
BA/50, LLB/54
Feb. 13
Gordon B. McTavish
LLB/60
Feb. 21
Manly S. Rusen
LLB/55
Feb. 24
Donovan A. McCarthy
LLB/50
Feb. 28
Ronald L. Olesky
LLB/76
Mar. 15
Allison T. Peters
BA(Hons)/80, LLB/87
Mar. 18
C.W. "Cy Buckingham
LLB/48
Mar. 20
Thomas A. Goulding
BA/48, LLB/52
Apr. 13
Lynn T. Cook-Stanhope
BA/69, LLB/72
Apr. 14
Michael E.J. Phelps
BA/67, LLB/70
Apr. 20
Robert D. "Bob" McDonald
BA/67, LLB/70
May 15
M. Neil Chernick
BA/61, LLB/65
June 4
Howard C.G. Pitts
LLB/85
July 25
Donald M. Little
LLB/81
Aug. 4
Joseph F.L. Sherwood
BA(Lat Ph)/57, LLB/62
Aug. 11
L. James "Jim" Thornborough
BA/69, LLB/73
Aug. 15
Edward J. Finch
BA/48, LLB/51
Sept. 14
William R. "Bill" Martin
BA/53, LLB/54
Oct. 5
Nathan "Nate" Nurgitz

 

LLB/58
Oct. 19
Paul A. Smith

 

BA/80, LLB/84
Nov. 2
Grant W. Davis

 

BA/99, LLB/04
Nov. 17
James B. Fraser

 

BA/63, LLB/67
Nov. 17
Donald C. Brock

 

LLB/56
Dec. 30
2018

Alan A. Adams
LLB/47
Jan. 15
Andrew B. Mazor
BA/54, LLB/58
Feb. 3
Harvey C. Korman
LLB/71
Mar. 3
Walter L. Karlicki
BA/55, LLB/59
Mar. 8
James A. Horne
BA/69, LLB/72
Mar. 16
Gregory J. Welch
LLB/73
Mar. 19
Morton A. Slusky
BA/48, LLB/51
Mar. 23
Valdyn J. (Anderson) Duke
LLB/79
Mar. 26
Douglas D. Everett
LLB/51, LLD/2017
Mar. 27
Thomas G. Hague
BA/69, LLB/73
Mar. 28
Saul M. Cherniack
LLB/39
Mar. 30
Jack P. Drapack
BA/62, LLB/69
Apr. 4
Helen I. Blonski
LLB/85
Apr. 5
Vern Simonsen
LLB/59
Apr. 8
Calla-Ann T. Coughlan
LLB/08
Apr. 12
Alvin S. Corne
LLB/55
Apr. 15
Alvin E. Breitman
BA/60, LLB/64
Apr. 18
Mark R.T. Adkins
LLB/99
May 11
Hon. Gordon J. Barkman
LLB/51
May 14
Hon. Robyn (Moglove) Diamond
LLB/75
May 29
* Roland Penner
BA/49, LLB/61
May 31
Charles O. "Chuck" Meighen
BA/64, LLB/67
June 2
Randolph B. McNicol
LLB/73
June 8
Carol A. Dutcheshen
BFA/62, LLB/86
June 24
John C. Karlsson
LLB/02
June 24
John L. Carpenter
LLB/50
June 27
Philip L. Ashdown
BA/48, LLB/52
June 28
Robert S. "Bob" McKenzie
BA/59, LLB/63
July 25
Morse M. Silden (Morris Silverman)
BComm/54, LLB/67
Sept. 20
David R. Birchard
BA/67, LLB/67
Sept. 22
A. Lionel "Len" Weinberg
BA/56, LLB/60
Sept. 24
Daniel P. Orlikow
BA/82, LLB/86
Sept. 26
Kenneth J. Tyler
LLB/84
Sept. 28
Wallace L. Benkendorf
BA/58, LLB/64
Oct. 11
Terrance B. Kumka
JD/77
Oct. 30
Peter S. Morse
LLB/52
Nov. 15
Glenn R. Eisbrenner
BSc/64, LLB/71
Dec. 8
David H. Jones
LLB/48
Dec. 14
Leslie M. Diamond
BA/49, LLB/52
Dec. 27
Shirley P. "Clare" (Howard) Haskin
BA/49, LLM/53
Dec. 30

2017

Christopher A. Brock
BA/81, LLB/84
Jan. 8
Charles A. Evans
LLB/56
Jan. 23
Hon. Daniel P. Kennedy
BA/63, LLB/65
Jan. 28
Hon. Wallace M. Darichuk
LLB/60
Jan. 29
F. Ann (Warbanski) Bailey
LLB/77
Feb. 13
John P. Wolfe
LLB/54
Feb. 26
Anthony P. Pittarelli
BA/53, LLB/63
Mar. 10
Darren M. Sawchuk
BA/86, LLB/89
Mar. 18
* A. Burton "Burtie" Bass
LLB/57
Mar. 29
Hon. Armand Dureault
BA (LatPh)/49, LLB/53
Apr. 16
* Norman G. Larsen
BA/56, CertEd/65, LLB/68
Apr. 26
Hon. Daniel C. Abbott
BA/58, LLB/62
May 14
* Michael M. Park
May 17
William "Billy" Abrams
BA/50, LLB/54
May 25
Alexander Brown
BSc/58, LLB/62
May
Aaron L. Berg
LLB/76
June 1
Hershel E. Wolch
BComm/62, LLB/65
July 17
David C. Golub
BA/71, LLB/74
Aug. 4
Hon. William "Bill" Blakeman Scarth
LLB/61, LLM/70
Aug. 9
Hartley P. Gale
LLB/55
Aug. 14
Philip A. Heiland
BA/52, LLB/56
Aug. 15
Gerard J. Roozendaal
LLB/61
Aug. 25
Thomas H. Scott
LLB/57
Sept. 9
Mario Joseph Albert Perreault
BA/58, LLB/62
Sept. 11
Allen W. Yost
BSc/68, LLB/81
Sept. 13
Brian H. Forrest
BA/70, LLB/73
Sept. 19
James W. Potter
BSc/61, LLB/65
Sept. 22
Fermie S. Wilder
LLB/80
Oct. 2
Andrew P. Kelly
LLB/88
Nov. 1
Douglas W. Buhr
BA/71, LLB/74
Nov. 20
Eric B. Irwin
LLB/79
Nov. 24
Randall W. Callan
BA/74, LLB/82
Nov. 26
Hon. Benjamin Hewak
BA/56, LLB/60, LLD/03
Dec. 21
2016
Alan J. Ross
LLB/78
Jan. 12
George J. Federsel
LLB/75
Jan. 31
John S. Lamont, Q.C.
BA/49, LLB/52
Feb. 17
Hon. Kristjan F. Stefanson
BA/66, LLB/69
Mar. 2
Walter "Oleh" Romaniw, Q.C.
BA/66, LLB/69
Mar. 7
Ronald Friesen
BA/61, BSW/63, MSW/64, LLB/78
Mar. 14
Robert A. "Bob" Mayer, Q.C.
BA/66, LLB/69
Apr. 5
George Funk
BA/74, LLB/77
Apr. 23
Robert D. "Bob" Watson
MA/76, LLB/82
May 3
Sidney N. Lachter
LLB/64
May 12
Anatole "Tony" Stratychuk
LLB/54
May 13
Norman A. Cuddy
BA/71, LLB/74
June 6
David M. Sanders
BA/67, MA/87, LLB/98
June 12
Sam Steel
LLB/70
June 23
Keith I.M. Heming, Q.C.
LLB/76
July 5
Hon. Raymond H. Harris
LLB/56
July 15
Robert C. Cullen
BA/52, LLB/56
Aug. 1
Robert W. McMechan
BA/72, LLB/77
Aug. 7
Brian G.J. McCombe
BA/56, LLB/61
Aug. 15
James F.C. Rose
BComm (Hons)/74, LLB/78
Sept. 21
David B. Kovnats
LLB/76
Sept. 24
Aubrey M. Rusen
LLB/58
Oct. 6
Frank L. Cvitkovitch
BA/57, LLB/61
Oct. 24
Douglas C. Calder
LLB/51
Nov.
John L. Vergin
BSc (EE)/44, LLB/53
Nov. 3
Marley S. Dash
BA/74, LLB/78
Nov. 4
A. Rolph Huband
BComm/51, LLB/55
Nov. 20
Richard N. Samson
BA/48, LLB/52
Dec. 9
Stanley M. Swiderski
LLB/54
Dec. 12
William G. Ryall
BA/63, LLB/67
Dec. 20
Lowell M. Harvey
LLB/87
Dec. 24
2015
Donna M. Thompson
LLB/87
Jan. 1
Dennis J. Gibbs
BA/58, LLB/62
Jan. 29
George S. "Stan" Farwell
BA/52, LLB/56
Feb. 5
Alexander A. Sarchuk
BA/51, LLB/56
Feb. 18
Mary J. Beehler
LLB/76, CA/87
Feb. 19
Morley R. Gorsky
BA/49, LLB/53
Feb. 23
Roy B. Dunlop
BA/52, LLB/56
Mar. 25
Donna M. Nilson
LLB/90
Apr. 6
William C. "Bill" Irish
BA/46, LLB/50
Apr. 27
Saul B. "Shelly" Zitzerman
BA/56, LLB/60
May 12
David I. "Ian" MacLeod
LLB/87
May 13
Ross A.L. Nugent
LLB/48, LLM/56
May 30
Henry N. Carroll
BA/59, LLB/64
June 19
Grant V.J. Einarson
LLB/71
July 2
D. Neil McTavish
LLB/68
July 7
Daniel G. "Donald" Wozniak
BA/52, LLB/56
July 31
Darryl J. Barber
LLB/76
Aug. 3
John N.C. Campbell
LLB/85
Aug. 12
Sam Minuk
LLB/55
Aug. 13
Stewart A. McCrae
LLB/53
Sept. 2
Charles P. Degutis
LLB/89
Sept. 14
G.A. James Henderson
BA/67, LLB/70
Oct. 5
Neil G. MacKay
BA/57, LLB/57
Oct. 20
Jacob L. "Cobber" Henteleff
LLB/79
Oct. 21
Wilfred R. DeGraves
BA/50, LLB/54
Oct. 23
Sidney G. Segal
BA/73, LLB/76
Nov. 4
Peter L. Freeman
BA/58, LLB/62
Nov. 18
Bernard S.M. Toni
BA/64, LLB/67
Nov. 25
J.F. Reeh Taylor
LLB/51
Dec. 2
Jeffrey T. Dodgson
LLB/95
Dec. 11
Donald W. Reid
LLB/48
Dec. 20
Howard R. Pawley
BA/57, LLB/61
Dec. 30
2014
Florence Rosenfeld
LLB/45
Jan. 14
Dr. A. Lorne Campbell
LLB/47, LLD/77
Jan. 15
Oscar B. Grubert
LLB/54
Feb. 11
Judge Robert Lionel Kopstein
BA/55, LLB/58
Feb. 28
G. Jack Harris
BA/70, LLB/73
March 12
Reginald L.S. Follett
LLB/53
March 27
Donna E. Matthews (Dallinger)
BA/74, LLB/77, BEd/93
May 2
Leo V. Teillet
BA (LatPh)/71, LLB/75
May 9
Percy R. Stapley
BA/47, LLB/51
June 3
David Alan Guttman
BA/82, LLB/85
July 12
Donald B. Bridge
BA/51, LLB/55
July 18
Hon. A.C. Hamilton
LLB/50
July 25
Elizabeth A. Thomson
BA/80, LLB/83
Aug. 13
Earl L. Parker
LLB/75
Sept. 7
Daniel J. Krindle
BA/61, LLB/65
Sept. 20
Donald Arni Flatt
BA/64, BEd/67, MA/73, LLB/80
Oct. 4
Patrick Randolph O'Laney
BA/93, LLB/96
Oct. 4
Robert J. Tropak
BSW/75, LLB/91
Oct. 9
William M. Simms
BA/52, LLB/56
Oct. 14
John E.N. (Jack) Wilson
LLB/50
Oct. 16
Irvin Harvey Slusky
LLB/52
Oct. 22
Kenneth A. Filkow
BA/62, LLB/66
Oct. 27
Myfanwy Elizabeth Bowman
BA/91, LLB/98
Nov. 3
Eli Potkonjak
BA/67, LLB/72
Nov. 23
Neil G. MacPhee
LLB/50
Dec. 18
Frank J. Baker
BA/67, LLB/73
Dec. 29
Ernest G. Johnson
LLB/51
Dec. 30
Make a Gift
We are always looking to improve our facilities and expanding hands-on learning opportunities. Your generosity will continue to support a vibrant, new vision for the Faculty of Law at the University of Manitoba.
To find out how you can help, please contact:
Donor Relations
Toll-free 1-800-330-8066
e-mail:  donor.relations@umanitoba.ca