To the Juris Doctor, Master of Laws, and inaugural Master of Human Rights graduating Classes of 2021,
The Faculty, Staff and Practicing Professionals of the Faculty of Law wish you all sincere congratulations on having completed your respective degrees. What you've accomplished is a big deal and took a ton of commitment and sacrifice, so it's ok to take a moment (but just a moment) to stop and be proud of yourselves.
In fact, we're very proud of you for having been part of your arrival at this – one of many – finish lines.
As you go on either to article and train further to be a legal or human rights professional, or to deepen your knowledge of law and human rights from an academic perspective, you will join the ranks of leaders in this world of uncertainties.
We have every confidence that with the knowledge that this parchment represents, you have the tools to face any challenges that will undoubtedly come your way. After all, you've already overcome the hurdles presented by the COVID pandemic.
We now look to you to uphold, advance and live our faculty's values of justice, integrity and excellence. Don't forget to stay in touch and tell us what you're doing!
---
Virtually Attend the Law Convocation Ceremony
---
Greetings from Acting Dean David Asper, Q.C.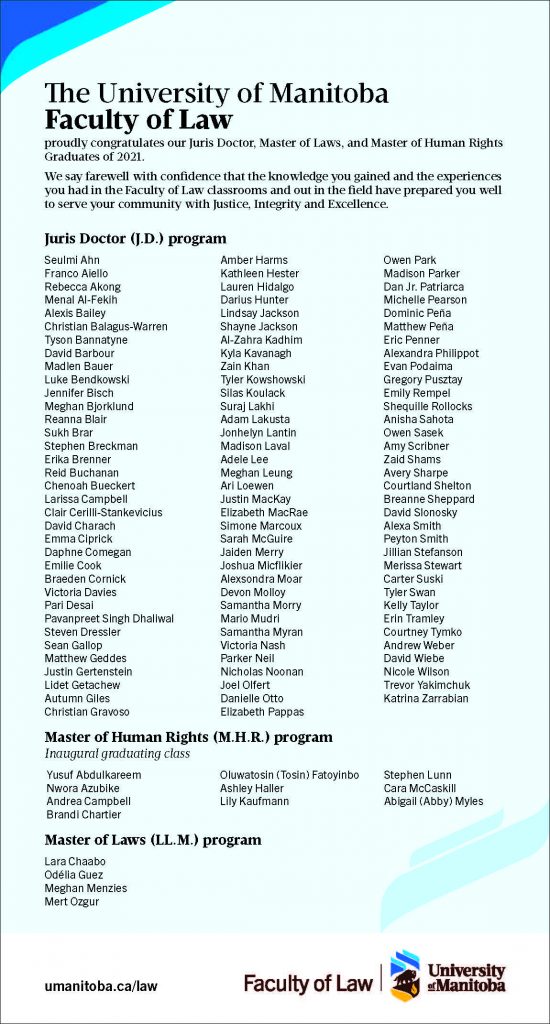 ---
Juris Doctor Class of 2021 Valedictorian Address by Lidet Getachew
View the inaugural Master of Human Rights Graduation Gala, 2021
Read interviews with graduating J.D. and LL.M. students
---
Read interviews with the inaugural Master of Human Rights graduating class on the Master of Human Rights
---