When:
March 2, 2021 @ 12:00 PM – 1:00 PM
2021-03-02T12:00:00-06:00
2021-03-02T13:00:00-06:00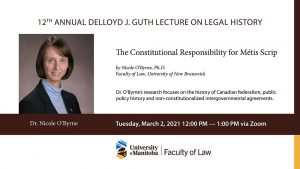 TUESDAY, MARCH 2, 2021 AT 12:00 P.M.
Dr. Nicole O'Byrne is an Associate Professor at the Faculty of Law, University of New Brunswick, and is this year's guest lecturer for the DeLloyd J. Guth annual Lecture on Legal History.
The title of the talk is " The Constitutional Responsibility for Métis Scrip"
Please join the lecture on Zoom here.
Dr. O'Byrne's research focuses on the history of Canadian federalism, public policy history and non-constitutionalized intergovernmental agreements, including the British North America Act, 1930 (the Natural Resources Transfer Agreements) and Medicare. She has published articles about various aspects of Métis history and is currently writing a book on the history of Métis-state relations in Alberta, Saskatchewan and Manitoba (1870-1970). Please see her full biographical information here.