When:
January 25, 2022 @ 12:00 PM – 1:00 PM
2022-01-25T12:00:00-06:00
2022-01-25T13:00:00-06:00
The very first lecture in the Desautels Lecture series will be conducted by Professor Matthew Bellamy of the Carleton University's Department of History.
Talk Title: "Family Firm to Managerial Enterprise: Three Generations of Labatts and the Bootlegging Manager-Entrepreneur Who Saved the Brewery from Prohibition."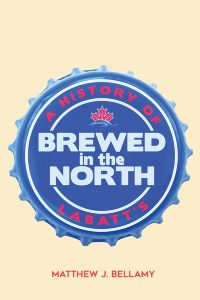 The lecture will consider the nature of family relationships at Labatt's. Did the family business experience a Buddenbrooks effect? How did the entrepreneurial skills of one generation of Labatts compare to those of another, and those of Edmund Burke, the general manager of the brewery during prohibition? What values did the founder of the company, John Kinder Labatt, establish to guide the business over time? Were these values dangerous path dependents that trapped his heirs in the cage of tradition? How did the brewery survive prohibition?
This event will take place virtually, over Zoom.
Matthew J. Bellamy is an associate professor of history at Carleton University. He specializes in Canadian business, political and cultural history. He is the author of Profiting the Crown: Canada's Polymer Corporation, 1942-1990, for which he received the 2006 National Business Book Award.  His latest research has taken him into the realm of brewing history. His book Brewed in the North: A History of Labatt's was published by McGill-Queen's University Press. Professor Bellamy contends that no industry is more revealing about culture, history and attitudes.
---
The Desautels Research Lecture Series brings noted scholars to the Centre to speak on a wide variety of topics at the intersection of private enterprise, law and the humanities. The lecture series is intended to showcase the power of multidisciplinary approaches to understanding businesses.