When:
February 15, 2022 @ 12:00 PM – 2:00 PM
2022-02-15T12:00:00-06:00
2022-02-15T14:00:00-06:00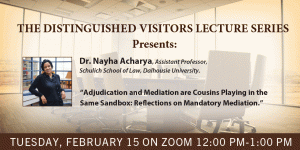 NEW DATE: February 15!
The Distinguished Visitors Lecture Series is pleased to present Dr. Nayha Acharya (Schulich School of Law) as a special guest speaker from Dalhousie University.
The title of Dr. Acharya's talk is "Adjudication and Mediation are Cousins Playing in the Same Sandbox: Reflections on Mandatory Mediation."
Please register for this event here: https://forms.office.com/r/zEbkbhkyKj
The Zoom link will be sent to registrants closer to the event date.
Abstract:
My broad purpose in the talk is to discuss how adjudication and mediation (two related but very distinct dispute resolution systems) should come together to form a holistic, legitimate civil justice system.  My premise is that a legitimate civil justice process will demonstrably recognize and uphold, equally, everyone's human dignity. That is at the core of a valid legal system that deserves the authority that it asserts. I question how mandatory mediation fares in terms of upholding these central values of equality and human dignity through three related lenses.
First, the theoretical angle: mandating mediation constitutes, I suggest, an inappropriate hurdle to accessing rule of law (which is prioritized in the adjudicative process), and that amounts to an affront to the dignity of those governed by the legal system.
Second, I focus on how parties may experience court-annexed mediation: given that the dominant discourse holds that mediation is valuable because of its efficiency, quick settlements are seen as the best possible outcomes of mediation. This commitment has been shown to be costly for parties in terms of fairness in both process and outcome because of settlement pressure. Moreover, prioritizing fast settlement may prevent parties of experiencing the substantive values of mediation like self-determination, cooperative problem-solving, opportunities to give and get empathetic understanding, all of which align with the value of human dignity.
The third is the related social justice lens: critical race and feminist scholars have shed light on the dangers of informal dispute resolution, demonstrating that already marginalized community members are at greater risk of coercion in those settings.
These perspectives, taken together, suggest that mandatory mediation is inappropriate because of its potential to diminish human dignity and equal treatment. Simultaneously, however, the analysis also demonstrates that having access to good mediation programs enhances the autonomy of parties to a conflict and has great potential to improve the protection of human dignity in the civil justice process.
I conclude, therefore, with reflections on the way forward: first, effecting a culture shift that recognizes the value of adjudication for maintaining rule of law and appreciates mediation for its substantive values (self-determination, holistic, cooperative problem solving); second, designing student, lawyer, judicial, mediator, and public training to reflect that conceptual shift; and third, committing to continual empirical assessment of mediation programs in accordance with the above noted conceptual shift.
About Dr. Acharya:
Dr. Nayha Acharya is an Assistant Professor at the Schulich School of Law. She completed her LLB at the University of Alberta, then articled and practiced at the Edmonton law firm Reynolds, Mirth, Richards and Farmer before pursuing graduate studies at Schulich, obtaining an LLM in 2012 and a PhD in 2017.
Her current research interests include alternative dispute resolution, civil procedure and procedural justice, legal theory, dispute resolution and medical negligence. Dr. Acharya has also taught Civil Procedure, Alternative Dispute Resolution, Introduction to Law and Law and Ethics.