When:
November 2, 2021 @ 12:00 PM – 1:00 PM
2021-11-02T12:00:00-05:00
2021-11-02T13:00:00-05:00
Contact:
Professor Darcy MacPherson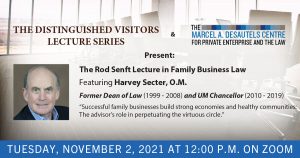 The Faculty of Law is pleased to present the Rod Senft Lecture in Family Business Law, featuring Harvey Secter, O.M. [BComm/67, LLB/92] on Tuesday, November 2 at 12:00 p.m. 
Mr. Secter's talk will focus on "Successful family businesses build strong economies and healthy communities: The advisor's role in perpetuating the virtuous circle."
Mr. Secter will welcome questions after the presentation.
To attend, please RSVP using this form: https://forms.office.com/r/erdePWhAcA  The Zoom link will be sent to registered guests prior to the event.
About Harvey Secter
After completing a Bachelor of Commerce degree in 1967, Mr. Secter directed the growth of his family's retail business, Ricki's Canada Limited, from a ten-store chain to a multi-divisional national operation of 150 stores. He was a member of the ownership group of the Winnipeg Jets and pursued a business career until 1988 when he returned to the University of Manitoba to pursue a law degree, graduating with the Gold Medal in 1992. He then obtained a Master of Laws degree at Harvard where he became a visiting researcher and instructor for Harvard's program on negotiation. Returning to Manitoba, he was an instructor at the Faculty of Law from 1995 to 1999 before serving as Dean of Law from 1999 to 2008. He then served as Chancellor of the University of Manitoba from 2010 to 2019.
About the talk
Forbes reported that studies by leading international research firms found family-owned or family-controlled corporations consistently outperform their peers in almost all sectors across the globe over the long term. Family-controlled firms are more prevalent than most people are aware and represent 1/3 of the companies on the S&P 500. While large family businesses gather headlines, their smaller siblings create greater impact. In Canada, 98% of incorporated businesses are small or medium sized. (SME's). These predominantly family-owned firms account for more than 60% of employment in the private sector and generate more than half of our GDP and job growth.
In addition to this major economic impact, family businesses and business families play critical roles in creating and sustaining healthy and caring communities. Winnipeg is a classic example of a city where the quality of life is enhanced by the financial support and leadership entrepreneurs, their companies, family, and associates provide to local institutions and organizations.
Notwithstanding their prevalence and significance, only 50% of new corporations reach their 5th birthday. Studies show that only 12% of family businesses successfully transition to the 3rd generation. Many emerging changes suggest that the transitional challenges will grow more severe in the future. This session will explore how lawyers, as principal advisors to private family businesses, can enhance the prospects for successfully transitioning more of these enterprises in the future.