Oct
13
Thu
14th Annual DeLloyd J. Guth Visiting Lecture in Legal History: Constance Backhouse

@ Moot Courtroom B
Oct 13 @ 12:00 PM – 1:15 PM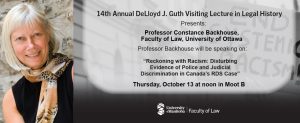 Constance Backhouse holds the position of Distinguished University Professor at the University of Ottawa. She teaches in the areas of legal history, human rights, critical race studies, and feminist issues in law.
The Annual Guth Lecture in Legal History welcomes Professor Backhouse in-person to Robson Hall on Tuesday, October 13th at 12pm in Moot Courtroom B.
The title of her talk is "Reckoning with Racism: Disturbing Evidence of Police and Judicial Discrimination in Canada's RDS Case"
More information and registration coming soon.
Oct
18
Tue
Visiting Scholar lecture: Illia Roskoshnyi on "Human-State Interaction in the Information Society"

@ Moot Courtroom B
Oct 18 @ 12:00 PM – 1:30 PM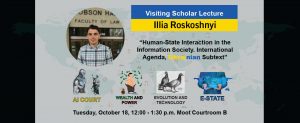 Please join the Faculty of Law's visiting scholar Illia Roskoshnyi, for a talk on "Human-State Interaction in the Information Society: International Agenda/Ukrainian Subtext" on Tuesday, October 18, 2022 at 12:00 – 1:30 p.m. in Moot Courtroom B.
Illia is one of two visiting academics from Ukraine, being hosted by the Faculty of Law at the University of Manitoba. He is completing his PhD in law at the V.N. Karazin Kharkiv National University on the topic of "Constitutional and Legal Principles of Human-State Interaction in the Informational Society." His areas of research focus are in Constitutional, Municipal, Transportation, Consumer, Information, International, and Comparative Law. Of particular interest is Modern Technology of Human State Interaction. Illia's list of publications can be seen on his faculty profile page.