Oct
19
Wed
Annual Robson Hall Law Banquet

@ Winnipeg Art Gallery
Oct 19 @ 6:00 PM – 10:00 PM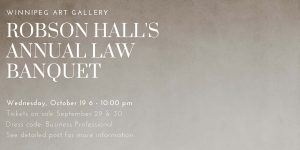 The Professional Development Committee presents the biggest networking event of the year: Robson Hall's Annual Law Banquet.
This event provides students the opportunity to wine, dine, and network with practicing partners and associates from six of Winnipeg's largest law firms.
Students will be seated with a preferred firm for dinner so they may cultivate meaningful connections with potential future employers.
The following firms will be attending: Thompson Dorfman Sweatman (TDS), Taylor McCaffrey, MLT Aikins, Pitblado Law, Fillmore Riley, and Myers.
Tickets will go on sale Sept 29 and 30.
Please watch your inboxes in the next week for an important email from the Law Banquet Coordinators regarding how to purchase tickets.