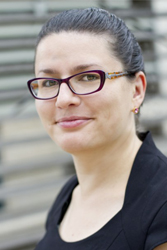 Adriane Porcin
Assistant Professor
204.474.8295
Adriane Porcin's current research focuses on copyright collective management organizations. More specifically, her doctoral work concentrates on the impact of competition law on repertoire licensing across Europe and North America.
Before joining Robson Hall in July 2014, she was a full-time lecturer at the John Molson School of Business for two years. She also worked as a part-time lecturer at Université de Montréal's Faculty of Law and University of Ottawa's civil law section, and was the coordinator of Université de Montréal's Centre de recherche en droit public in 2009-2010.
She holds a Master en droit et fiscalité de l'entreprise from Université d'Aix-Marseille III and a Master en droit économique et des relations d'affaires from Université de Perpignan.
For more, visit: www.adrianeporcin.com
Intellectual Property
Competition law
Governance