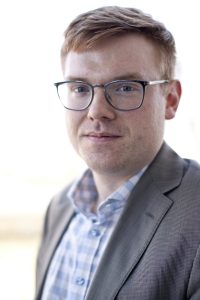 Brandon Trask
Assistant Professor
204-480-1421
Brandon Trask is an assistant professor of law at the University of Manitoba and an adjunct fellow at St. John's College.
Professor Trask's research focuses primarily on the areas of criminal law and evidence, constitutional law (with an emphasis on the Charter), and environmental law and policy, as well as areas related to progressive law and economics.
Professor Trask is originally from Winnipeg. He worked for the Government of Manitoba as a research and policy analyst in the Office of Canada-US and International Relations while he was an undergraduate student in the University of Manitoba's Global Political Economy Program. After two years of undergraduate studies, Professor Trask was admitted to Robson Hall in 2009. He graduated with his Juris Doctor (JD) in 2012, after gaining litigation experience through his time as a volunteer with the University Law Centre and through his work as a summer student with Thompson Dorfman Sweatman LLP.
Professor Trask then completed his Master of Laws (LLM) at the University of Toronto during 2012-13 under the supervision of Professor Michael Trebilcock, specializing in the area of law and economics. He later returned to the University of Toronto to begin his Doctor of Juridical Science (SJD) studies.
After articling with the Newfoundland and Labrador Public Prosecutions Division and receiving his first call to the Bar in 2014, Professor Trask worked as a Crown prosecutor in Newfoundland and Labrador and later in Nova Scotia, most recently with the Appeals and Special Prosecutions Section of the Nova Scotia Public Prosecution Service. While in practice as a Crown prosecutor, Professor Trask was involved with hundreds of cases across two levels of court in Newfoundland and Labrador and three levels of court in Nova Scotia. He also regularly appeared on behalf of the Crown at the Criminal Code Review Board in Nova Scotia.
Prior to joining the Faculty of Law, Professor Trask taught (via distance) as a course instructor with Memorial University of Newfoundland's Law and Society Program, teaching over 1,100 undergraduate students between 2015 and 2020.
Additionally, Professor Trask was formerly a biweekly newspaper columnist with the Canstar Community Newspapers of Winnipeg. He has repeatedly been a radio panelist and guest and has also been interviewed for national and local television. Professor Trask has written op-ed pieces for a variety of newspapers, including The Toronto Star, The Globe and Mail, and The Ottawa Citizen.
Criminal Law and Evidence
Constitutional Law (with a particular focus on the Charter of Rights and Freedoms)
Progressive Law and Economics
Political Economy
Economic and Social Regulation
Institutional Design and Development
Environmental Law and Policy
Energy Law and Policy
Brandon Trask, "Standard Concerns: An examination of public-interest considerations with respect to prosecutions of environmental advocates and Indigenous land defenders" in Richard Jochelson & James Gacek, eds, Green Criminology and the Law (forthcoming 2021 – Palgrave)
Brandon Trask & Evan Podaima, "Blurred Lines: A critical examination of the use of police officers and police employees as expert witnesses in criminal trials" (forthcoming 2021) Manitoba Law Journal
Peter Dostal, Brandon Trask & Greg Bembridge, "Technology in Prosecutions" (Delivered at the Nova Scotia Public Prosecution Service Fall Conference, 26 September 2018)
Brandon Trask & Ginger Holmes, "Defending Against Boilerplate Charter Applications" (Delivered at the AGM of the Newfoundland and Labrador Public Prosecutions Division, 16 October 2014)
Brandon Trask, "Terminal STIs and the Law: Aggravated Sexual Assaults vs. Homicides" (Delivered at the Royal Newfoundland Constabulary Homicide Course, 25 February 2014)
Brandon Trask, "The Economics of Life and Death: Morals and Ethics in an Environment of Medical-Resource Scarcity" (2013) 37 Manitoba Law Journal 233
Professor Trask has an extensive history of community involvement, including:
Co-Editor, Robson Crim (2021-present)
Halifax Representative, Nova Scotia Crown Attorneys' Association (2017-19)
Graduate Students' Union Representative, University of Toronto Graduate Law Students' Association (2015-16)
Eastern Region Representative, Newfoundland and Labrador Crown Attorneys' Association (2014-15)
Honorary Board Member, Westland Foundation (2011-19)
Executive Director, Manitoba Law Students' Association (2011-12)
Member of Board of Governors, St. John's-Ravenscourt (2010-12)
President, St. John's-Ravenscourt Alumni Association (2010-12)
Executive Council Member, Winnipeg High School Hockey League (2005-13)