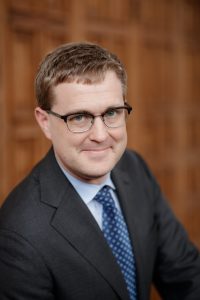 Teaching Areas
Civil Procedure
Administrative Law
Constitutional Law
Legal Profession and Professional Responsibility
Public International Law
A member of the Robson Hall community since January 2020, Dr. Gerard Kennedy researches how different actors and institutions within or adjacent to the legal profession uphold the rule of law and facilitate access to justice. He principally does this through analyzing civil justice and procedure and administrative law and procedure, frequently with a comparative lens. His scholarship has been published in the Manitoba Law Journal, the Osgoode Hall Law Journal, the Queen's Law Journal, the Alberta Law Review, the Supreme Court Law Review, Australian National University's Federal Law Review, and the Windsor Yearbook of Access to Justice, among elsewhere. He is also current author of The Charter of Rights in Litigation: Direction from the Supreme Court of Canada.
Professor Kennedy received his Juris Doctor at Queen's University, where he was the sole recipient of the Dean's Key in his graduating class. He then clerked at the Ontario Superior Court of Justice before earning a Masters of Law at Harvard Law School as a Frank Knox Memorial Fellow. His doctoral studies at Osgoode Hall Law School, completed in January, 2020, were supported by a Pierre Elliott Trudeau Foundation Scholarship and a SSHRC Joseph-Armand Bombardier CGS Doctoral Scholarship. As a doctoral student, he held scholarship-supported visiting positions at NYU School of Law and the Max Planck Institute Luxembourg for Procedural Law.
Professor Kennedy's interests in civil and administrative justice were largely inspired by his four years as a litigator at Osler, Hoskin & Harcourt LLP. He has remained an active member of the legal profession, as a member of the bar and a regular volunteer at pro bono clinics. His commitment to pro bono work during and after his time at Osler was recognized by the 2016 Young Advocates' Society Commitment to Pro Bono Award. A believer in connections between the academy, the bar, and the public, Professor Kennedy has published numerous articles in journals and blogs aimed at practitioners, in addition to pieces in the National Post, Policy Options, and The Walrus. He has been Robson Hall's representative on the Pitblado Lectures Organizing Committee in 2020 and 2021.
An educator at heart, Professor Kennedy had extensive teaching experience prior to joining Robson Hall while a full-time doctoral student and/or a full-time practicing lawyer. He has taught or co-taught twelve different courses between Queen's University's Faculty of Law and the University of Toronto's Department of Political Science. In addition, he has served a coach for moot teams at both U of T and Queen's before becoming co-coach of the Philip C. Jessup International Law Moot team at Robson.
Civil justice and procedure
Administrative law
Constitutional law
The legal profession
Election law
Public international law
Peer-reviewed Journal Articles
"Hryniak Comes to Manitoba: The Evolution of Manitoba Civil Procedure in the 2010s" (2021) __ Manitoba Law Journal __ (forthcoming)
"The Alberta Court of Appeal's Vexatious Litigant Order Trilogy: Preserving Access to the Courts, Respecting Statutory Language, and Hopefully Not to a Fault" (2021) 58:3 Alberta Law Review 739
"The 2010 Amendments and Hryniak v Mauldin: The Perspective of the Lawyers Who Have Lived Them" (2020) 37 Windsor Yearbook of Access to Justice 21
"Final v. Interlocutory Civil Appeals: How a Clear Distinction Became so Complicated—Its Purposes, Obfuscation and a Simple Solution?" (2020) 45(2) Queen's Law Journal 243
"Justiciability, Access to Justice, and Summary Procedures in Public Interest Litigation" (2019) 20 Supreme Court Law Review (2d) 119 (with Lorne Sossin)
"Rule 2.1 of Ontario's Rules of Civil Procedure: Responding to Vexatious Litigation While Advancing Access to Justice?" (2018) 35 Windsor Yearbook of Access to Justice 242
"Public Inquiries' Terms of Reference: Lessons from the Past – And For the Future" (2018) 41(1) Manitoba Law Journal 317/18 Underneath the Golden Boy 317
"Jurisdiction Motions and Access to Justice: An Ontario Tale" (2018) 55(1) Osgoode Hall Law Journal 79
"Justiciability, Access to Justice & the Development of Constitutional Law in Canada" (2017) 45(4) ANU Federal Law Review 707 (with Lorne Sossin)
Books
The Charter of Rights in Litigation, loose leaf (Toronto: Thomson Reuters, 2020) (taken over authorship after appointments to the bench of previous authors, now-Justices Mahmud Jamal and Matthew Taylor)
Edited Case Books
The Civil Litigation Process in Canada, 9th ed (Emond Montgomery, 2021) (forthcoming) (under general editorship of Janet Walker)
Book Reviews
"Timely, And Looking Forward to Volume Two: Book Review of Seven Absolute Rights: Recovering the Historical Foundations of Canada's Rule of Law, by Ryan Alford" (2021) __ SCLR (2d) ___ (forthcoming)
Book Review of In Search of the Ethical Lawyer: Stories from the Canadian Legal Profession, edited by Adam Dodek & Alice Woolley in (2018) 35 Windsor Yearbook of Access to Justice 177
Book Chapters
"Rule 2.1" in Civil Litigation in Ontario (CanLII, 2021) (forthcoming)
"Accountability and Transparency in Canadian Civil Justice" in Accountability e Transparência da Justiça Civil Uma Perspectiva Comparada (São Paulo: Thomson Reuters, 2019)
Selected Other Published Journal Articles
"Narrative, Interrupted: Reflections on a First Semester as a New Law Professor Like No Other" (2020) 25(4) Lex Electronica: Law and Learning in the Time of Pandemic - A Collage (edited by Shauna Van Praagh and David Sandomierski)
"When Vavilov Makes Judicial Review More Difficult: Findings of Fact in a Statutory Appeal" (27 April 2020) Intra Vires (Canadian Bar Association Administrative Law Section Publication) (with Alyssa Clutterbuck)
"Pragmatic and Logical: The Supreme Court of Canada's White Burgess Decision" (May 2016) 5(2) Commercial Arbitration and Litigation Review 23
"Glen Grove: Distinguishing Agency and Privity as Bases to Hold Non-Parties Liable to Contracts" (April 2016) Toronto Law Journal (with Mary Paterson)
"Tanudjaja v. Canada (Attorney General):Distinguishing Injusticiability and Deference on Motions to Strike" (2015) 44 Advocates' Quarterly 391 (with Mary Angela Rowe)
"Ontario Court of Appeal Divided on Permissibility of Hearings Outside Ontario in Multi-Jurisdictional Class Actions" (August 2015) 4 Commercial Arbitration and Litigation Review 33 (with Christopher P. Naudie)
" v. P.C.: Accused Does Not Have Right to State-Funded Counsel for a First Appeal – Necessarily"(October 2014) Toronto Law Journal
"Substance Over Convenience" (August 2014) Canadian Underwriter (with Mark A. Gelowitz)
"Dilollo (Re): Ontario Court of Appeal Holds that Limitation Period for Preference Motion Is Not Suspended Pending Appeal of Bankruptcy Order" (2014) 29 National Creditor-Debtor Review28 (with Mark A. Gelowitz)
"Persisting Uncertainties in Appellate Jurisdiction at the Supreme Court" (2013) 100 Criminal Reports(6th) 96
Selected Op-Eds and Professional Resources
"Trudeau Liberals go around attorney general again, this time over bilingualism" National Post, February 24, 2021
Day Five, "12 Days of Christmas" Symposium, Double Aspect blog, December 29, 2018
"Justice for Some" The Walrus, November 2017
"The courts, the administrative state, and Trinity Western" Policy Options, March 14, 2017
"Supreme Court's Quebec 'common-law' decision is a case study in judicial restraint" National Post, January 30, 2013
Regular contributor to Osler Updates and Canadian Class Action Defence and Advocates for the Rule of Law blogs
Member of Organizing Committee for Pitblado Lectures, 2020 and 2021
Report writer for Ontario's Far North Electoral Boundaries Commission, Summer 2017 (historic commission creating Ontario's first provincial electoral district with a majority Indigenous population)
Pro Bono projects include regular volunteering at Pro Bono Ontario clinics and advising clients such as Aids-Free World, the Canadian Constitution Foundation, and Privacy International

Recipient of 2016 Young Advocates' Society Commitment to Pro Bono Award

Member of:

o Law Society of Ontario
o Canadian Bar Association
o The Advocates' Society
o Osgoode Society for Canadian Legal History
o International Association of Procedural Law