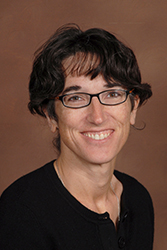 Dr. Michelle Gallant has been a full professor at Robson Hall Faculty of Law at the University of Manitoba since 2014, having taught at the faculty since 1999 first as an Assistant professor and then as an Associate (2004). Her areas of teaching and research focus are on Taxation, Philanthropy of Law, International Law, Dispute Resolution, Money Laundering and Terrorist Finance.
She has been a Commissioner of the Manitoba Law Reform Commission from 2012 to 2018, and was  Deputy Commissioner of the Residential Tenancies Commission from 2008 to 2011.
In 2014 and 2010, she was a Visiting Fellow, at the University of Cambridge, and became an Associate member of St. Paul's College, University of Manitoba, in 2011. She has been an Adjunct Professor of the University of Manitoba's Peace and Conflict Studies Program since 2oo5, and served as the Faculty of Law's Associate Dean (Research and Graduate Studies) and Director of the Legal Research Institute from 2004 to 2010.
Dr. Gallant received her Doctor of Philosophy at King's College London in 2000, prior to which she worked as Legal Counsel for the Federal Department of Justice, Halifax Regional Office. She completed a Master of Laws at the University of British Columbia in 1996, and her LL.B. at the University of New Brunswick in 1990.
Dispute Resolution
Money Laundering
Terrorist Finance
'Financial Institutions and Money Laundering:  A Threatening Relationship?  co-author, E. Lawlor-Forsythe, Journal of Banking Regulation, 2017 online:https://link.springer.com/journal/41261/onlineFirst/page/1
'Tackling the Risks of Money Laundering', in White Collar Crime and Risk. Palgrave Studies in Risk, Crime and Society, Nicholas Ryder (eds.), Palgrave MacMillan, 2018.
'An Empirical Examination of Forfeiture' in Handbook on Criminal and Terrorist Financing Law, Colin King & Clive Walker, eds. Palgrave, 2017.
'AML: Maintaining the Balance Between Controlling Serious Crime and Human Rights', inResearch Handbook on International Financial Crimes, B Rider, ed., Edward Elgar, 2015.
'An Empirical Glimpse of Manitoba Civil Forfeiture Regulation' (2015) 38 Manitoba Law Journal 219.
 'Financial Incentives, Whistle-Blowing and Canadian Revenue Law', (2015) The Company Lawyer 359.
'Income from Business or Property', with D MacPherson, in Materials on Canadian Income Taxation, Carswell, 2015.
'Retreating Into Doubt:  Tainted Finance, Civil Devices and the Rule of Law,' in Interdisciplinary Insights on Fraud, Aurora Teixeira, et. al eds. Cambridge Scholars Publishing, 2014 (earlier version published in Conference Proceedings OBEGEF, Interdisciplinary Insights on Fraud and Corruption, Porto, Portugal) 2012)
'Money Laundering Consequences:  Recovering Wealth, Piercing Secrecy, Disrupting Tax Havens and Distorting International Law', (2014) 17 Journal of Money Laundering Control 296 (issue 4)
'Civil Processes and Tainted Assets:  Exploring Canadian Models of Forfeiture' in Colin King and Civil Walker eds. Dirty Assets:  Emerging Issues in the Regulation of Criminal and Terrorist Assets, Ashgate, 2014
'Lawyers and Money Laundering Regulation: Testing the Limits of Secrecy in Canada' Conference Proceedings, 3rdGlobal Conference on Transparency Research, October 2013 http://campus.hec.fr/global-transparency/?page_id=281
"The Seizure of Illicit Assets: Patterns of Civil Forfeiture in Canada and Ireland" with C. King, (2013) 42:1 Common Law World Review 91.
"Enhancing Global Regulation: Exploring Alternative Financial Machinery" in L Westra, P Taylor and A Michelot, Confronting Ecological and Economic Collapse: Ecological Integrity for Law, Policy and Human Rights, Earthscan/Routledge, 2013.
"Tax and the Proceeds of Crime: A New Approach to Tainted Finance?" (2013) 16:2 Journal of Money Laundering Control 119.
"Retreating into Doubt:  Tainted Finance, Civil Devices and the Rule of Law," Conference Proceedings OBEGEF, Interdisciplinary Insights on Fraud and Corruption, 2012.
"Civil Processes and Tainted Assets: Exploring Canadian Models of Forfeiture," in C King and C Walker, Dirty Assets:  Emerging Issues in the Regulation of Criminal and Terrorist Assets, 2014, Ashgate Publications, part of Law, Justice and Power Series, ed. A Sarat.
"Funds, Rights and Terror: Her Majesty's Treasury v Mohammed Jabar Ahmed and Others, (2010) 21 King's Law Journal 569.
"Law and Legal Process in the Resolution of International Conflict" in Conflict Resolution and Analysis, eds. S. Byrne, D. Sandole, I. Sandole-Saroste and J. Senehi, Routledge, 2008
Tax and Terrorism: A New Partnership? (2007) Journal of Financial Crime 453
Ontario (Attorney General) v. $29,020 in Canadian Currency: A Comment on Proceeds of Crime and Provincial Forfeiture Laws, (2006) 52 Criminal Law Quarterly 64
"Income From Business or Property" in Materials on Canadian Income Tax, 13th ed., with L. Turnbull, Carswell, 2005
Money Laundering and the Proceeds of Crime:  Civil Remedies and Economic Crime, Edward Elgar Publications, London, 2005
Funding Policy Choices:  Tax and Global Financial Secrecy, Global Environmental Integrity Group Conference, Windsor, Ontario, June 26-28, 2017
Liability and the Flow-Through Corporate Form, Global Conference on Transparency Research, Limerick, Ireland, June 19-22, 2017
An Empirical Investigation of Civil Forfeiture & The Money Laundering Threat to Banks?, Cambridge International Symposium on Economic Crime, Cambridge, September 9 & 10, 2016
Bank Secrecy, International Association for the Reform of Criminal Law Conference, Halifax, July 14, 2016
The Successes and Failures of Proceeds of Crime Approaches, Workshop, University of Manchester, England, October 3, 2014
Public Interest Disclosure and Bounties, Cambridge International Symposium on Economic Crime, Cambridge, England, September 6, 2014
Lawyers and Money Laundering Regulation:  Testing the Limits of Secrecy in Canada, 3rdGlobal Conference on Transparency Research, HEC, Paris, France, October 26, 2013
The Impact of Money Laundering Measures, Vulnerability and Cultural Heritage 1: Heritage Crime, Illicit Trade, Stewardship and Ethics, Leicester, UK May 9-10, 2013
Law, Philanthropy and Social Enterprise, Social Finance: New Direction or Distraction Symposium, Organizing Chair, Winnipeg, Manitoba, September 21, 2011
An Intriguing Approach Taken Too Far:  Civil Forfeiture and Terrorist Finance Regulation, Cambridge International Symposium on Economic Crime, Cambridge, UK, September 10, 2011.
Rights and Terrorist Finance, Cambridge International Symposium on Economic Crime, invited speaker, Cambridge University, September 11, 2010
Civil Forfeiture, 6thAnnual Symposium on Money Laundering, invited speaker, Osgoode Hall, University of Toronto, April 23, 2010
Law, Philanthropy and New Economic Challenges: Changing the Rules of Engagement, Conference Chair, Winnipeg, Manitoba, September 16, 2009
Workshop on Commercial and Corporate Law, Panelist, Taxation Panel, Winnipeg, Manitoba, October 3, 2008
 "Uncertainty in the Convergence of Anti-Criminal Finance Norms and Legal Counsel", invited paper, Cambridge International Symposium on Economic Crime, Cambridge, England, September 5, 2008
International Conference on the Future of Legal Education (participant), Atlanta, Georgia, February 20-23, 2008
 "A Critic of Global Anti-Terrorist Finance Strategies", presentation, Mauro Center for Justice and Peace, University of Manitoba, November 3, 2006