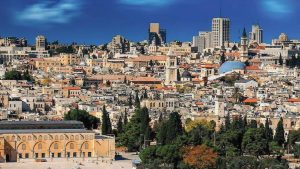 The 2023 Asper International Program on Israeli Law and Society will be offered from May 1-May 24, 2023.
This program is an academic partnership between the University of Manitoba law school and the Hebrew University of Jerusalem.  This course is open to UM Law students, Asper School of Business students, and law students across Canada.
There are no prerequisites and the course qualifies for academic credit at Hebrew University. UM Law and a number of other law schools to date have permitted transfer credits to their own programs. This program is made possible through the generous support, from among others, of the Winnipeg chapter of the Canadian Friends of Hebrew University.
We aim to make the program as accessible as possible. UM Law students are eligible for a substantial subsidy. For students at other Canadian Law Schools, please see the links below.
NOTE: Tuition for the University of Manitoba JD program is calculated on a program basis (i.e. block fees), and not per credit hour. If you participate in the 3-week Mishpatim course offered at Hebrew University (or similar), the cost is in addition to the program fee required at the University of Manitoba. While the credit hours earned will be included in your academic program at the University of Manitoba, your upcoming term(s) tuition will not be reduced.
What is the focus of the program?
Students will learn how Israel adapts, in its constitutional and regulatory framework,  to the social and economic challenges and then compare and contrast that with the Canadian experience.  Just about every issue that affects Canada – building a modern high tech economy, integrating newcomers and members of traditional societies, and promoting human rights in the face of various internal and external pressures – applies to Israel.
Many areas of academic interest are covered by aspects of the program including:  constitutional and human rights law, international business and trade law and immigration and refugee law.